Teacher Training for Music Education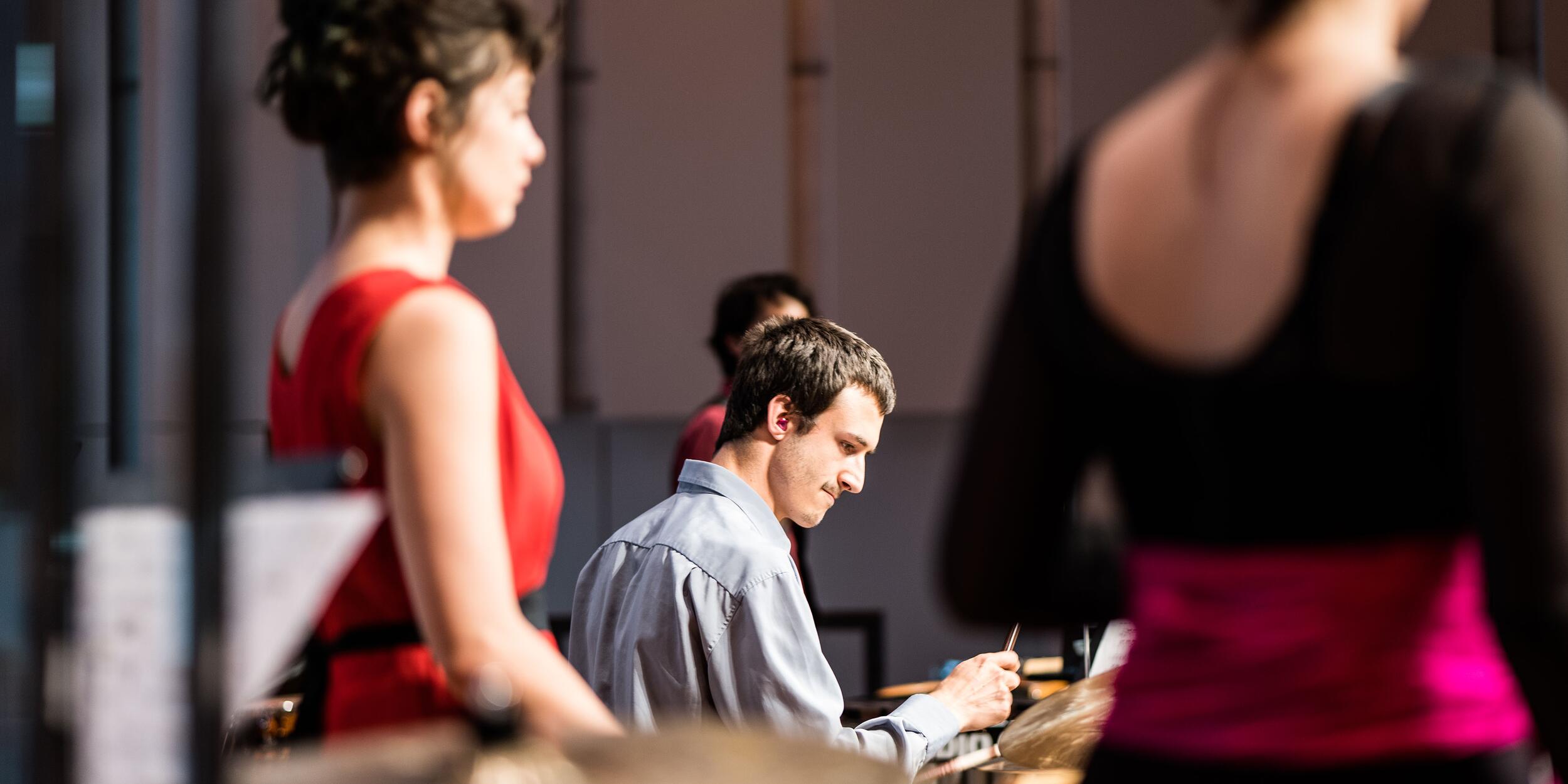 The bachelor's degree program in music education provides basic training in the subjects of musicology and didactics, pedagogy, educational science and school practice as a pre-service training for teaching at middle and high schools.
Informationsveranstaltungen
Study & Occupational Fields
The teacher training programme for secondary education (general education) consists of a Bachelor's and a Master's programme and trains students to become teachers in the chosen teaching subjects.
The planned duration of the Bachelor's degree programme in Secondary Education (General Education) is 8 semesters. In principle, two teaching subjects must be chosen, which are supplemented by general educational science basics, free elective subjects and integrated pedagogical-practical studies. The teaching subject Music Education can be combined with any teaching subject.
Students receive individual tuition from first-class teachers on their chosen instruments and can develop both artistically and in terms of music education. Accompanying the artistic and music-theoretical training, the focus is placed on the subject of music in school from the very beginning. In the subject didactic courses, methods and concepts for teaching music are taught and, among other things, listening education, digital media and practical music making are addressed.
The study programme is oriented towards both the state of the art in the development of the arts and the state of research in the sciences involved, and refers to the curricula of secondary and higher schools and the general and holistic educational goals contained therein.
Special features at the Salzburg location:
The study location Salzburg offers a first-class musical education at an art university with world fame and international flair.
The cooperation between the art university, the university and the teacher training colleges enables a comprehensive music pedagogical education
The Mozarteum University is the only art university in Austria that encompasses all academic art disciplines: Music, Fine Arts, Performing Arts and Dance. At the Salzburg location, students benefit from a wide range of cooperation and exchange opportunities.
General study information
Veranstaltungen
Historical Dance and Culture Afternoon

Master project of Maurizia Schmid: A fun afternoon of 18th century pleasures, dancing to live music, board games and coffee and cake.

In view of the shortage of trained teachers, which also affects the artistic subjects, pressing questions arise for music education. We cordially invite you to an action day dedicated to and reflecting on the questions for the teachers of the future.

03:00 pm

Foyer, Kleines Studio, Hörsaal, Studierendenlounge

KinderUNI: Open afternoon

Under the motto "Marveling together", the KinderUNI will take place again this year from 17 to 21 July. Children from 8 to 12 years of age can choose 2 topics per day from an extensive range of workshops & get a taste of studying at Paris Lodron University and the Mozarteum University.
Any questions?
Here you can find more information about starting your studies: