Teacher Training for Music Education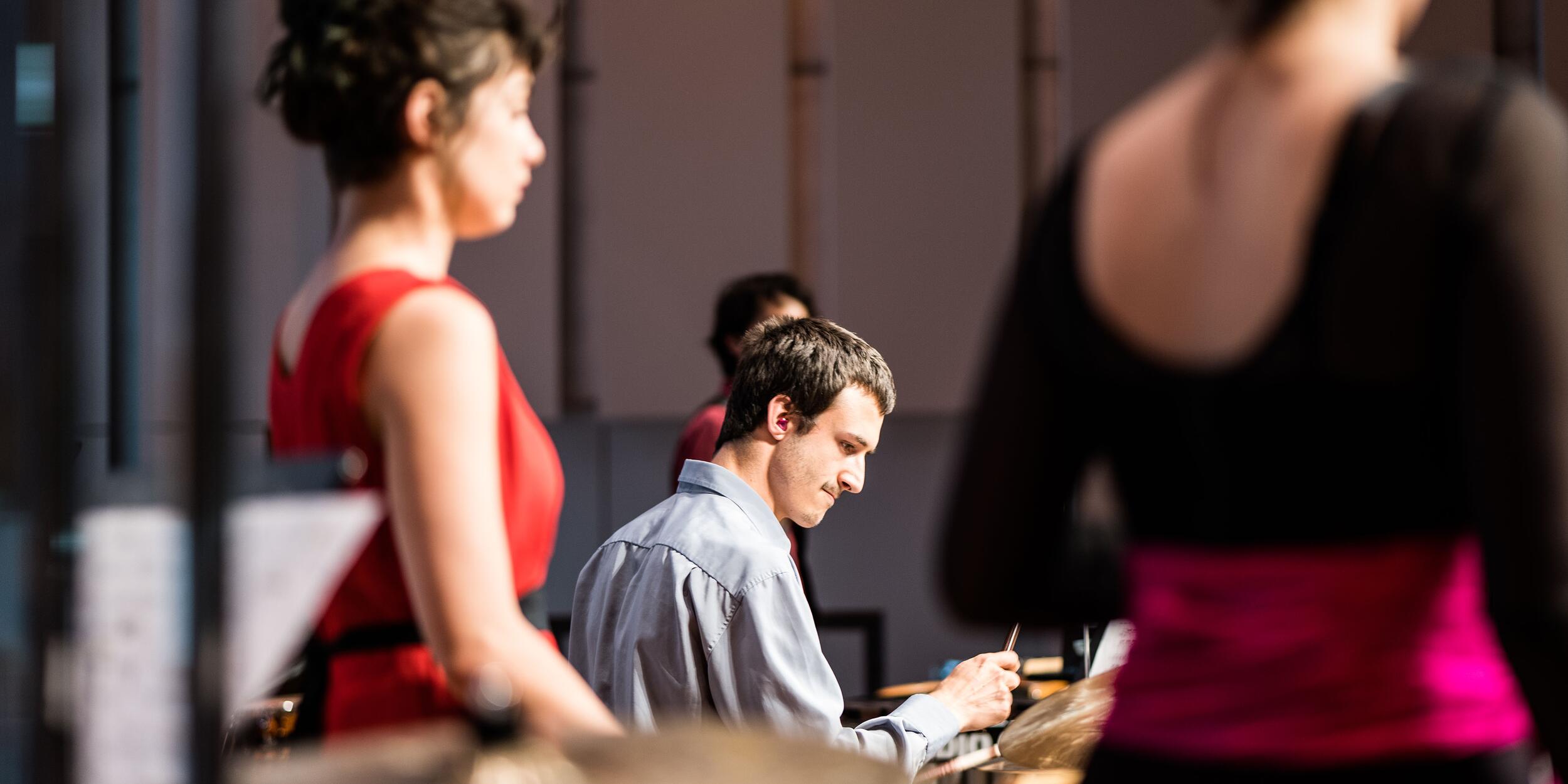 The subject of music education offers a wide range of courses in which students learn important theoretical principles in dealing with music and its teaching. The master's degree program serves to provide subject-specific, subject-specific didactic and practical training for the teaching profession of music education in the secondary sector (general education) and the personal focus of the students.
Informationsveranstaltungen
Study & Occupational Fields
The planned duration of the Master's degree programme in Secondary Education (General Education) is 4 semesters. Basically, two teaching subjects have to be chosen, which are supplemented by general educational science basics, free elective subjects as well as integrated pedagogical-practical studies. The subject Music Education can be combined with any other subject.
The teacher employment law stipulates that young teachers must complete a Master's degree within five years of their Bachelor's degree in order to be able to enter into permanent employment. In addition, students have to go through a one-year induction phase in which they teach regularly and are accompanied by mentors. This professional practice can be completed directly after the Bachelor's programme and recognised as an internship in the Master's programme in accordance with the respective curricular requirements and the currently applicable legal situation (University Act and Higher Education Act).
In the Master's programme, the range of subjects is completed with practical school events. Music education courses play a key role in a process of increasing individualisation of teachers' personalities: On the one hand, these challenge future teachers to reflect on central contents of the discipline (in order to pursue dissertation studies based on this, if necessary). On the other hand, bridges are also built here to important extracurricular institutions in order to clarify participation in public musical life in production and reception as an essential facet in the role image of music teachers.
The study programme is oriented towards both the state of the art in the development of the arts and the state of research in the sciences involved, and refers to the curricula of the secondary level (general education) and the general and holistic educational goals contained therein. Within the framework of the study programme, principles such as learner-centred orientation, questions of performance assessment, backward learning design, flexible differentiation, competence orientation, diversity as well as teacher leadership are also taken into account.
The Master's degree programme in Secondary Education (General Education) entitles the holder to full employment as a teacher for the 5th to 13th school level at:
Special schools
Secondary schools (MS)
Polytechnic schools (PTS)
General secondary schools (AHS)
Vocational schools and colleges (BMHS) for general education subjects
General study information
Any questions?
Here you can find more information about starting your studies: